Seeking and Soaring: Jewish Approaches to Spiritual Guidance and Development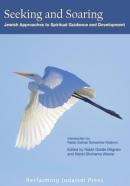 Rabbis Goldie Milgram and Shohama Wiener, Eds.
Publisher:
Reclaiming Judaism Press
Seeking and Soaring provides the opportunity to meet and learn from thirty-one Jewish spiritual guides, teachers and scholars from across the spectrum of Jewish life. Essays by leading professionals reveal traditional and contemporary methods of Jewish spiritual development, guidance and support. Significant innovations are included, such as the incorporation of ritual, movement, and guided experiences in nature. The inclusion of stories and instructive excerpts from sessions in progress, as well as powerful, pertinent teachings of Jewish spiritual masters make Seeking and Soaring a valuable resource for seekers, teachers and guides.

Praise for Seeking and Soaring:

"The rich and varied essays address the needs and yearning of contemporary Jews. You will find much to nourish your soul and enrich your practice as you companion people at moments of suffering and joy. —Barbara E. Breitman, co-editor Jewish Spiritual Direction: An Innovative Guide from Traditional and Contemporary Sources (Jewish Lights)

"Seekers and teachers will savor the diversity of approaches and perspectives, along with the fascinating vignettes, powerful exercises, accessible translations, and relevant and retellable sacred stories."
—Ellen Frankel, Editor Emerita, Jewish Publication Society, co-editor Mitzvah Stories: Seeds for Inspiration and Learning

"Glows with Spirit. A must read for all who seek or teach about a meaningful life. The occasional Hebrew words are carefully explained. The profession of spiritual direction is enriched with the publication of Seeking and Soaring." —Dale T. Irvin, President, New York Theological Seminary

Edited by
Rabbi Goldie Milgram and Rabbi Shohama Harris Wiener
Introduction by Zalman Schachter-Shalomi
with chapters by 31 leading spiritual director/guides, teachers and scholars including:

Howard Avruhm Addison, Anne Brener, Barry Bub, Mitchell Chefitz, Howard Cohen, Sandra Sarah Cohen, Wayne Dosick, Ellen Kaufman Dosick, Diane Elliot, Shulamit Fagan, Estelle Frankel, Elliot Ginsburg, Shefa Gold, Nadya Gross, Chaya Gusfield, Burt Jacobson, Raachel Jurovics, Ruth Gan Kagan, David Daniel Klipper, Goldie Milgram, Marcia Prager, Joyce Reinitz, Melinda Ribner, Carola de Vries Robles, Carol Rose, Zalman Schachter-Shalomi, Rami Shapiro, Hanna Tiferet Siegel, Shohama Harris Wiener, David Zaslow and Shawn Israel Zevit

Please note that this volume has also been heavily subsidized by foundations and public supporters of Reclaiming Judaism and Reclaiming Judaism Press.