Free MP3 "Creating Space for God"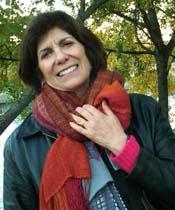 Deepen your Passover preparations through a spiritual lens by means of this mp3 visualization by Rabbi Joyce Reinitz. Duration: 1.5 minutes. (Text of imagery is below)
---
Rabbi Joyce Reinitz, also a psychotherapist, specializes in Jewish healing using the therapeutic guidance modalities developed by her honored teacher, of blessed memory, Madame Colette Aboulker-Muscat. Her article on using imagery as a technique for spiritual growth is available in Seeking and Soaring: Jewish Approaches to Spiritual Direction. Rabbi Reinitz is available by appointment, to help you interpret your experience. Inquiries.
Creating Space For God……
Close your eyes and breathe out 3X….Prepare for Pesach by quickly and thoroughly cleaning your house of all chametz…..throw away crumbs of bread….Clear away all clutter. Now ….take a golden feather and clean yourself, inside and out…. removing traces of arrogance, pride and self-importance. Sense how by doing this you are creating more space for God to dwell within you… Feel yourself filling up with light and love. What is happening? How do you feel? How do you look? Breathe out and slowly open your eyes.