Reclaiming Bar/Bat Mitzvah as a Spiritual Rite of Passage [Featured at the Jewish Futures Conference]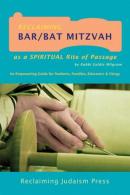 Publisher:
Reclaiming Judaism Press
"Excellent and Useful"--Jewish Book Council
Provides the tools and understanding necessary to create a conscious Bar/Bat Mitzvah experience infused with spirituality and meaning. The original purpose of this important rite of passage is carefully reclaimed: Ensuring a healthy Jewish lens for living is conveyed to each student; a lens that supports love of life and respect for life.
The building blocks of a mitzvah-centered life are taught through the methods of experiential and Jewish spiritual education. Step-by-step guides and riveting true stories help all involved to feel personally "touched by Torah"; through weaving student and family feelings, needs, interests, skills and talents into the preparation process, ritual and celebration.
Buy Now
This innovative approach reduces stress and cultivates loving connections to family, friends, community and heritage. B'nai Mitzvah becomes a far more meaningful and memorable chapter of life as award-winning master teacher Rabbi Dr. Goldie Milgram inclusively leads every kind of family through this engaging, carefully researched and proven effective planning and preparation process.
Praise for Reclaiming Bar/Bat Mitzvah as a SPIRITUAL Rite of Passage
Table of Contents

Introduction

1 Reclaiming Bar/Bat Mitzvah as a Rite of Initiation

2 Developing Your Bar/Bat Mitzvah Action Plan (BMAP)

3 Incorporating Awareness, Talents & Interests

4 Shaping a Meaningful Jewish Study Plan & Service

5 Step-by-Step Guide to Giving a Great D'var Torah

6 Exploring Mitzvah Project Options

7 Joyful Jewishing: Approaches to Celebrating

8 Contemplating Heartfelt Invitations, Blessings, Gifts & Memories

Glossary: Transliterations & Translations

Acknowledgements

Index
"This is a most valuable book to learn about Judaism for a Bar/Bat Mitzvah of any age!
--Peninnah Schram, author, Jewish Stories One Generation Tells Another
"Solid, wise and inviting."
--Rabbi Nancy Fuchs Kreimer, author,
Parenting as a Spiritual Journey

"This book freed our family from the bar mitzvah machine that our Temple has turned into and helped us come up with a bar mitzvah that is relevant...It is full of wonderful ideas."
--M. Shellster, Parent
"Helps us to bring heart and soul to our involvement in Jewish life." Rabbi Zalman Schachter-Shalomi: Davenning: A Guide to Meaningful Jewish Prayer
Buy Now: Special Introductory Pricing
"Helps bar and bat mitzvah students enhance their autonomy, thinking, creative engagement, Jewish identity and authentic self esteem."
--Ellen Weaver, psychotherapist, pastoral counselor, Bar/Bat Mitzvah Educator
"I cherish this as a parent, educator, and impassioned adult bat mitzvah student. An invaluable tool to help transform this learning process into a joyous adventure."
--Julia Indichova, author,
Inconceivable
and director, Fertile Heart Parenting Center
"Restores relevance and spirituality to the process of becoming Bar/Bat Mitzvah."
--Rabbi David A. Cooper, author, God is a Verb