Reclaiming Judaism as a Spiritual Practice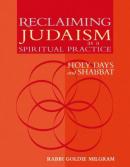 Publisher:
Jewish Lights Publishing
This inspiring guidebook is your wake-up call for understanding the powerful intellectual and emotional tools that are essential for a lively, relevant, and fulfilling Jewish spiritual practice. Designed to become a lifelong resource for holy days and Shabbat, RECLAIMING JUDAISM presents Judaism as an evolving tradition in which you are the entrusted heir. The exercises and practices draw from the foundations of Judaism and empower you to create meaningful, satisfying, contemporary Jewish experiences for how you live today. ISBN 978-1580232050 BUY NOW
Reviews:
"What makes this book special is the array of creative exercises and meditations that highlight the personal and spiritual side of Judaism. It's great for anyone on a spiritual journey, and also an excellent resource for educators and Jewish professionals. Her book makes you feel like you have a personal Jewish teacher or mentor who helps you find your own experience of Judaism."
--Rabbi Julie Hilton Danan, author, The Jewish Parents Almanac
"Teaches much that is important and heart-opening about Judaism.The approach is one of deeply respectful pluralism - the teachings are relevant to every denomination and will also resonate with agnostics, atheists and non-Jewish partners. This Judaism is about our real, everyday lives and each page raises awareness about how Judaism is filled with practices that can enhance the quality of our lives and relationships."
--Adam Beitman, Director, Campus Communications, AIPAC

"Reb Goldie has done us a great service: In her book and in her work in person she helps us to bring heart and soul to our involvement in Jewish life."
--Rabbi Zalman M. Schachter-Shalomi, author, First Steps to a News Jewish Spirit
Also available on Kindle, Book Nook and most e-readers!
Jewish Lights Publishing