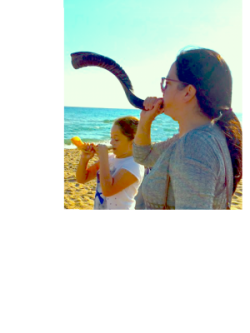 I was asked to create a list of ways to have Yom Kippur at home with the family and hope some or all of the following approaches may prove to be inspiring for you:

a. Everyone find some personal change you're working on, throw a ball in the air into the center of the family circle and whomever catches it call out the change and everyone else calls out supportive words.

b.
Seraphina's Heart
by Randi Ya'el Chaikind is a wonderful story to share and discuss in your family on Yom Kippur from our book
Mitzvah Stories for the Whole Family
. I imagine you'll love and find lots that is appropriate in the whole book and also the story
A Father's Gift
by Noa Baum in our other volume in the series
Mitzvah Stories: Seeds for Inspiration and Learning,
and many more stories there-in. We've made those two stories free reading links as a high holiday gift to readers.
c. Children typically fast til noon, just skipping breakfast and snack. Have them calculate how much was saved in the whole family during the fast and after Yom Kippur bring that savings to a food bank as a donation.
d. Walk in a field or lovely garden and notice everything that is extraordinary and notice that no one can create those things....they come from beyond human ability, creation is simply divine!

e. Go from room to room in your house and ask if there is any space where there was something hard that happened...fighting between siblings, a memorably angry parent, etc. Now touch (or install if not there) the mezuzah and create a teshuvah experience to purify the space, for the home is the "mikdash m'at", the little temple.

f. Have people take turns sharing something that has been on their "heart" that they've needed to say out loud, everyone reflect it back accurately. Then ask that person to listen inside and see what is needed for healing or transformation of that spot/wound/bad memory, etc. And if its in anyone's power to be give what the soul is asking for, including themselves, support that possibility.
g. If you have a deck of our soufully languaged
Mitzvah Cards
, sort them and determine which practices you must want to return to in the new year.
g. Everyone rub in a spiral over their own chest and say, if I could take back one thing i did that hurt someone here this year it would be....and then everyone say together, we are grateful for the ability to love and support each other. May this awareness be for a blessings! (language appropriately per age group)

h. Depending on the age of the youth involved, invite each person to share what they most love and enjoy about each other at the feast after the fast.
i. When lighting the Yom Kippur candles at sundown, include a yartzeit (memorial) candle that gets lit first and tell stories that teach about transformations on life's journey about those who are being remember.
j. And, remember can can go outside as Yom Kippur ends, when it's dark and at least three stars are visible to blow a long strong blast on the shofar or at your window, if your holy day at home is caused by illness. And if so, blessings for all possible healing!
Blessings for a wonderful, inteimate, deep and joyful Yom Kippur!